Robert Pope: Guinness-fuelled man runs width of Ireland in a day
A British marathon champion has run the width of the island of Ireland in less than 24 hours, seemingly becoming the first person to accomplish the feat.
Robert Pope ran from Galway City on Ireland's west coast to the capital Dublin in just 23 hours and 39 minutes.
The 44-year-old took on the 134-mile (215 km) after a pint of Guinness in Galway, before finishing with another at the end of the route on Sunday.
Speaking afterwards, he was in high spirits – if slightly worse for wear.
He jokily boasted to the BBC that despite the gruelling feat, he could still struggle up the stairs of his accommodation.
Pope, from Liverpool, decided to tackle mammoth route on something of a whim a little over two months ago, before deciding to use the opportunity to raise funds for the World Wildlife Foundation (WWF).
It didn't leave long to prepare. And then more pressing considerations – in the form of a music festival – quickly took precedence.
"I was meant to do an eight-week training programme, but obviously Glastonbury got in the way of that," he laughed. "I was also working, so it was probably just five weeks of 'Yeah, I'm happy with that' training."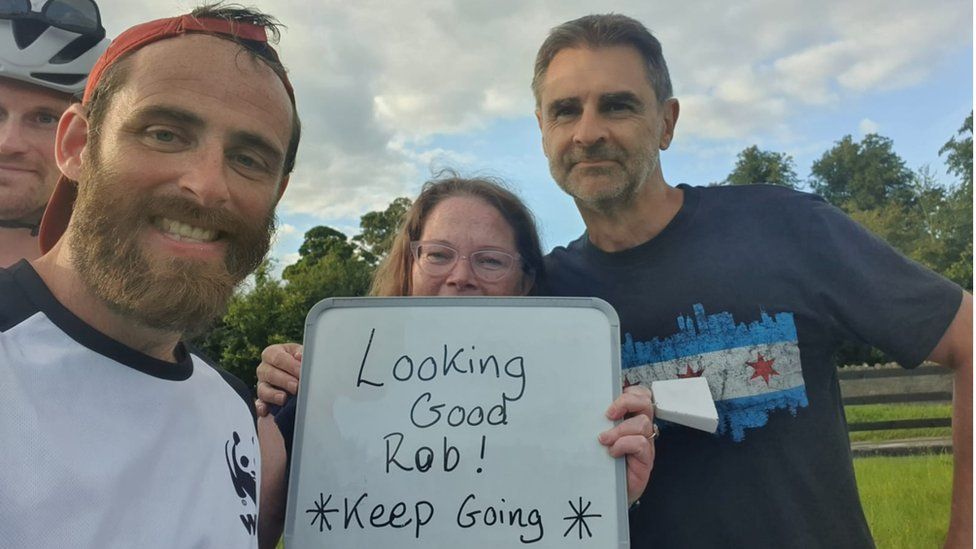 But the distance runner was determined not to allow the fear of failure to act as a check on his ambition. In fact, in some ways it was the point of it.
"Ultrarunning has exploded in the last few years, and a lot of that is because on social you'll often see people doing these crazy bonkers runs," he said.
"But nobody ever posts anything about failure anywhere. You see a lot of people posting and if they have failed at something they're like 'I'm absolutely gutted because I didn't succeed', but they did succeed because they gave everything they had to get there."
Pope is an elite ultramarathon runner, and has made his name revelling in challenges that range from the unconventional to the extraordinary.
In 2018, he paid homage to the film Forrest Gump by running more than 15,000 miles (24,141 km) criss-crossing the US.
He completed the route over 422 days and chronicled the journey in his book Becoming Forrest: One Man's Epic Run Across American.
And he maintained his unusual approach to distance running for his journey across Ireland.
Just moments before setting off from Galway's Spanish Arch – a scenic seaside walk in the city – Pope settled in for a quiet pint of Guinness with his four-man support team at a local pub.
At 22.31 local time (21.31 GMT) on Saturday, Pope dipped his feet in the waters of the Atlantic Ocean and set off for Dublin along a route that should take well over 24 hours.
The early stages passed quickly, but fatigue set in quicker than Pope thought it would.
"The wheels nearly came off very early, because we'd gone about 24 miles, maybe four hours into it, and I'd been nauseous for the last two," he said. "I just said to the guys, 'I don't think this is me over-reacting, but I think I'm going to have to quit'."
But with the support of his team – and a well-timed can of Coke coupled with some painkillers – his form returned.
He followed a route of mainly of traditional backroads and some canal paths to help his team avoid busy motorways and dual carriageways.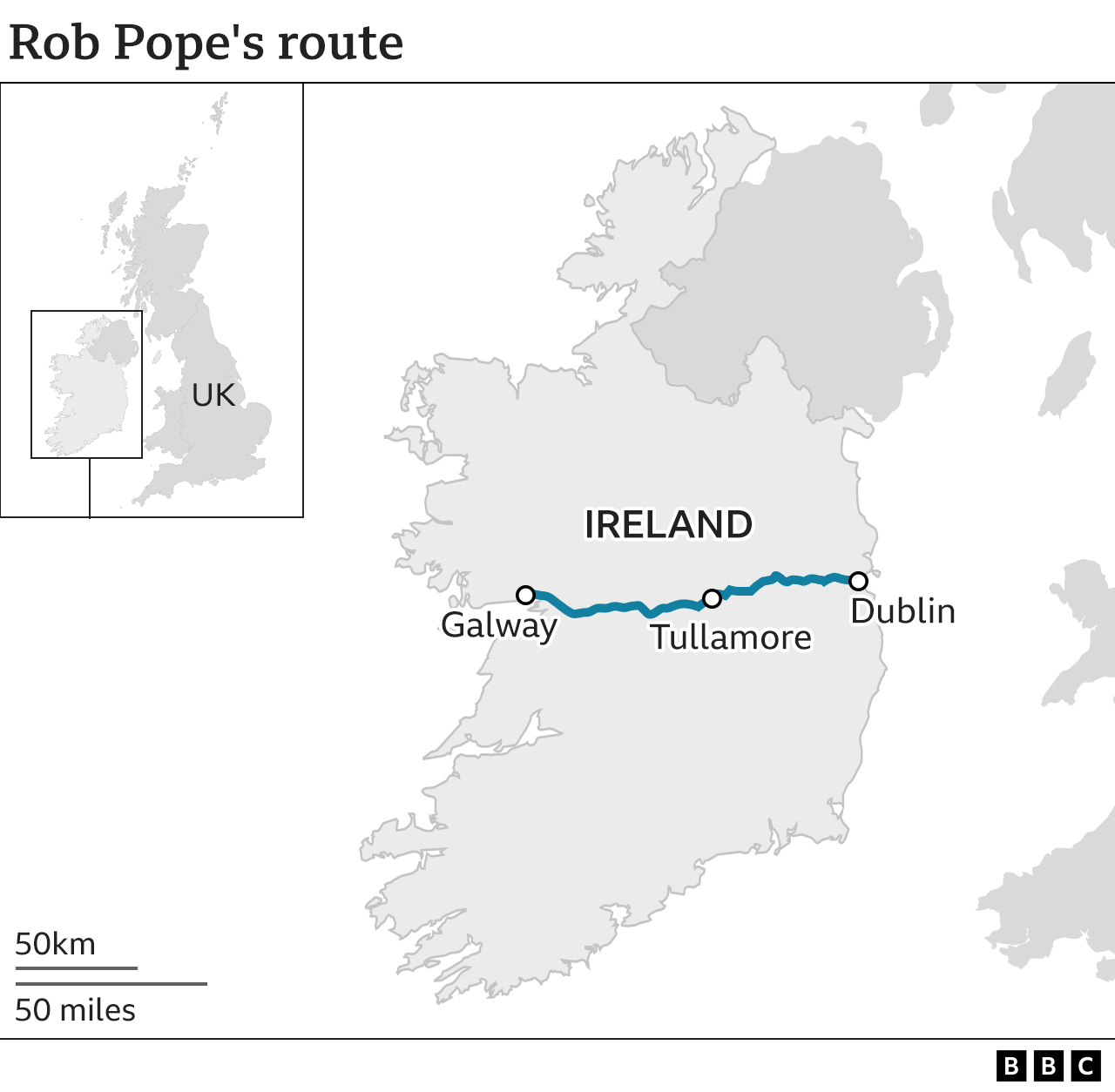 And while Pope was supported by four close friends, he credits a good part of his success to three random supporters who had heard of his efforts through social media.
"One fella, he'd driven down about 45 minutes having heard about it and he brought us down a bunch of bananas," Pope laughed. "And my body just went 'yes, you want one of them, have one of them'."
And in the town of Cloghan, in County Offaly, the staff of a local shop turned out to cheer him on and provide him with a fresh helping of cereal bars.
Having promoted his run under #EdgetoEdge on social media to celebrate the U2 guitarist the Edge's birthday, Pope listened to the band's entire catalogue in chronological order over the course of his run.
As Pope entered Dublin and began running through the city's chaotic, bus-filled lanes of traffic along the River Liffey, another "guardian angel" in the form of a runner named Tony appeared to guide him towards the finish line.
"I had about 10 miles to go," Pope recalled. "I'm in a hole at this point and Tony comes along and asks, 'Do you mind if I run with you' and I was just like 'yeah, but I really need to concentrate now'.
"So, we just worked together, and it got to the point where I was following him… he would warn oncoming traffic," he said. "We came off the Royal Canal heading down into Dublin as the sun was going down."
After reaching the Ha'penny Bridge, Pope decided to race one more mile to the city's Samuel Beckett bridge where the Liffey flows into the Irish Sea. There, he says, he took a victorious photo "in the middle of a dual-carriageway".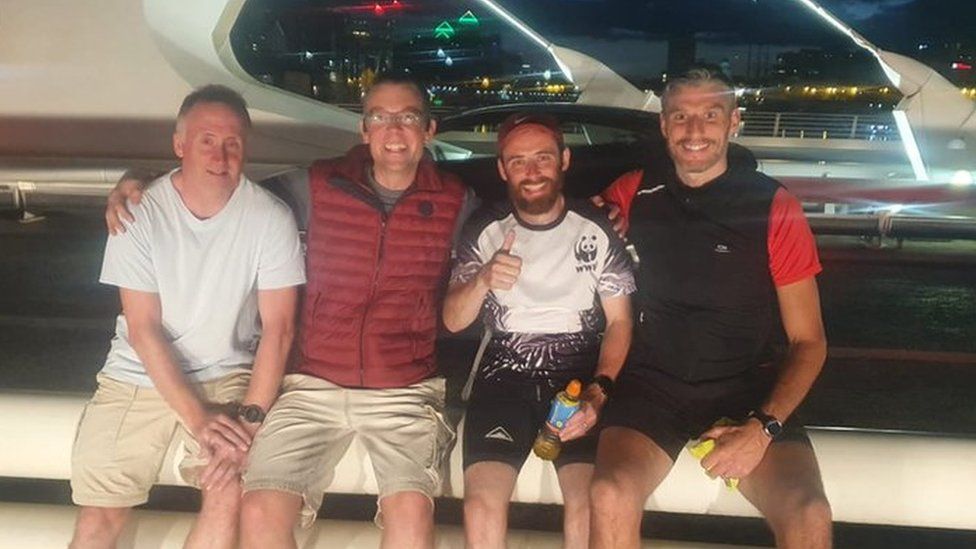 With no official record of any previous runner completing the feat, Pope is confident he is the first person to run across the island in a day. But he accepts that "some gnarled old club runner from Cork could have done it once in January".
Having arrived in Dublin well before midnight, there was only one way to mark a landmark Irish achievement.
"The plan was to get to Dublin for a pint before the end of the 24 hours, and you'll be glad to hear we did," he laughed.
"We had a pint [of Guinness] at the start and a pint to finish."